Molymerx PTY Limited
An interview with the original owner Michael Molloy
---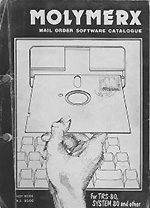 This transcript is an edited version of replies to questions I submitted to Michael Molloy, founder of Molymerx PTY Ltd, a mail-order TRS-80/System 80 software distributor which had a large following in New Zealand and Australia. Their mail order catalogues were well-known down-under.
Many thanks for your replies Michael. - Terry Stewart (Ed.)

Q. Was Molymerx an Australian company or a New Zealand one? Was it a franchise? Where was it based?
A. It was a NZ company but we also started an Australian company. The NZ arm held the franchises and duped from our masters to export to Aus. (In fact the NZ money was made thru export incentives-God bless Rob Muldoon !) I had hired a NZer working for Tandy in the UK to be Aus manager. (Michael also commented that the Australian operation failed in a very costly way, caused largely by the incompetence of this manager).
Q. Did you own a TRS-80 or System 80 yourself?
A. I brought a TRS-80 Model III (#3200 !!- 2 floppy drives -48k RAM) and all I wanted to do for months after was program. Work was a nuisance! family forgotten,sleep an intrusion....and I'm still fascinated with the technology though not competent now in modern programming languages. (My son though is a top corporate database programmer -built systems for Telecom, NZ Wool Board and the internal accounting system for Price Waterhouse so it must be genetic. He programmed a Simple Simon game on a portable Sharp handheld in Basic when he was 9 and I couldn't make a single improvement or cut it down by a line (and I was a very good programmer!)
Q. How long did Molymerx run for?
A. Three years. At one stage we were the largest supplier of TRS-80 software in the world but that era ended with IBM.
Q. When did the company start and when did it finally closed its doors?
A. The NZ Company registered about 1982 I think and ended a couple of years later when I fired the Australian group and didn't reopen. The impetus (for the company) was an article I wrote in a UK computer magazine (about the Lisa funnily enough). This lead to contact with John Molyneux (I think that was his surname) and eventually got NZ/Aus rights to all his software. I spent some time in the US and got distribution rights to some of the software over there -most notably NewDos.
Q. Would you know how many people worked for the company at its zenith?
Three in NZ and three in Aus. NZ was simply duplicating, packing and accounting, Aus. was supposed to be selling and we had planned to have a rep in each state. I made a huge error and gave sub-rights to an Adelaide company who sold more than we did, kept all the money and vanished leaving me to explain to the copyright owners that there were no records of sales to give them their share! I learned quite a lot about business from all this but I had to go back to my real job to clear the losses - fun though!
Q. Who subscribed to the catalogue? Was it mainly individuals, computer shops, clubs?
The catalogue was a huge seller but the piracy protection was pretty easy to bypass. The new software released each month sold a few copies (in NZ at least) but then hundreds were recopied. We even had people contacting us to complain that their pirated copies weren't up to scratch! In fact our cassette duplicating machines were state of the art, very expensive and (actually) almost total crap. Disk duping was JBOD (just a bunch of disks).
Q. The catalogue was loose leaf, yes?. Were new releases sent as separate sheets that people added to the catalogue?
A. No the catalogues were bound and I think full new ones were sent as updates There was always more than 20 new programs.
Q. What was the most popular software title (or titles) ordered from the catalogue?
Jumbo. By a mile. This was a 747 simulation that was quite astonishing for a machine with no graphics. NewDos was a big seller too. TRS-80 spawned a subculture of high technically skilled guys. I knew at least 3 people who could read machine code like a Janet and John book!
Q. Did Molymerx keep software in stock, or did they just act as an ordering service for the authors? How did the supply side work?
A. We had master copies and duplicated everything to order. In hindsight it was pretty unsophisticated and labour intensive. The NZ side was designed around the crazy rules that governed NZ then with exports and export substitutes the be-all.
Q. Do you remember how many firms and people were subscribed to Molymerx at its height?
In NZ a couple of hundred; Australia had several thousand but the Aus. business side was chaotic and I never got a full handle on their operations. I had to hire some heavies to retrieve our gear from the prick I put in charge and by that stage my enthusiasm had waned.
Q. Did the company have exclusive distribution rights to any particular piece of software in New Zealand?
We had exclusive distribution rights to all software in the catalogue. We were just getting some NZ programmers into the International sales area when it all folded
Q. Did you stay involved with computers after Molymerx?
A. I programmed Medical and Dental Office software and sold about 40 copies into NZ (Doesn't sound much but they were $20,000 systems). At that stage the fun went out of it when I realised I was now a travelling salesmen. It was the programming and the techie bits that were fun.
I was full-time with computers for about 2 years only. I'm a dentist by profession and fortunately had that to return to to make up the losses. It was fun though !

Michael Molloy
24th February, 2012
Added to the site 3rd March, 2012
---