System 80 - Other Guises - Video Genie
---
Britain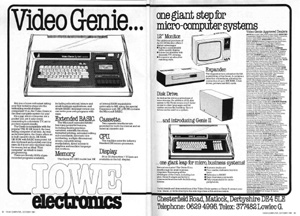 EACA sold these machines into the UK as the Video Genie. They were mostly imported and distributed by Lowe Electronics, a firm based in Matlock, Derbyshire. Lowe Electronics didn't slap their own name on the faceplate, but rather the EACA logo appeared there.
Models sold included the Video Genie I EG3003,equivalent to the System 80 Mk1 and Blue Label machine, and the Video Genie II EG3008 which was the same as the System 80 MkII. Lowe Electronics supported the machines with the usual EACA expansion options and upgrades.
More advertisements can be seen in this short pdf compilation, which features some other U.K. micros of the day.
Although it seems the largest, Lowe Electronics wasn't the only UK importer. Microdigital of Liverpool was at least one company that also sported it's own labeled version.

France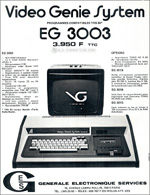 Also called the Video Genie in France, it was sold there by Generale Electronique Services according to the advertisement opposite. I don't know if there were other suppliers. (Advertisement borrowed from www.old-computers.com)
The Trommeschlager Computer GmbH (TCS) distributed the machine(s) in Germany (and perhaps The Netherlands?). As elsewhere in Western Europe, the name was the Video Genie, with the EACA logo was on the faceplate. A CP/M modification was offered by Schmidtke Electronics.
Details of the TCS-Video Genie story can be found on 8bit-museum.de in this document (in German). One interesting snippit from this document concerns the dealership rights to distribute the Video Genie in Germany/The Netherlands. Several companies were vying for this dealership status but when Fred Trommeschlager arrived at the negotiation meetings in Holland by private jet, EACA executives were so impressed that they gave him exclusive distribution rights!
As it with Dick Smith Electronics in Australia and New Zealand, the EACA computer was a very profitable item for TCS. One thing that helped move the machine compared to the competition was the time and effort put in by TCS to produce German documentation for the computer. Some of these support documents can be found here. Other German documentation and user magazines can be found here and here respectively.