Favourite System 80 Games (in order of fondness)
---
Not quite up to today's X-box standard but these game were, and still are, fun. All the ones below can be found on the "Favourites" disk available from the Disk Image Archive, or downloaded separately in the Cassette Image Archive.
Along with the below, check out these screen capture videos! Then consider downloading an emulator to sample them for yourselves, even if it is just to experience the low-res graphics and general cheesiness. There is only so much you can do in 16 kilobytes of RAM after all!
Although the graphics are crude and the sound lame, the gameplay in some of the TRS-80 (hence System 80) software was excellent. There wasn't much eye candy to hold people, so the gameplay itself had to do it.
---
This is a classic '80 game and my all-time favourite. The idea is to rescue the little astronauts (block-men) by landing on the platform while dodging the asteroids. Very addictive.
---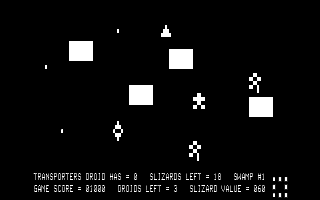 A simple but very playable early TRS-80 arcade game. The object of the game was to collect power packs while avoiding or shooting the "slizards", the latter becoming faster as the game progressed. No built-in sound but the intro. screen on this game advised the player to place a radio near the computer and so hear the "sound effects!!!" No wonder the US FCC banned the Model 1! (the System 80 transmitted very nicely too BTW.)
---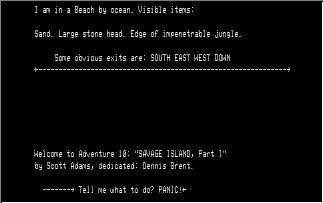 I LOVED these adventure games. These kept me up all night and caused heads to turn at restaurants when discussing with friends what to do with the "camel jerky" or the "starving rats".
Savage Island was my favourite. Clever, crafty, well-thought out.
---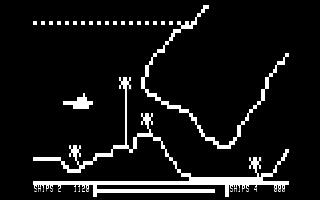 Similar to Penetrator described below but underwater! There are a few more parameters to consider with this one though (like oxygen supply). Good fun, and, like penetrator, a reward at the end.
---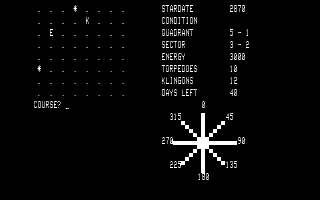 This basic version of Star Trek (there were many) was one of the first computer games I acquired. After the initial wonder of having the computer actually giving me back my own name after I entered it (I quote.. "Star Trek..the computer game. Starring Terry as Captain Kirk!") it was on to kill as many klingons as possible. Simple, clean uncomplicated fun!

---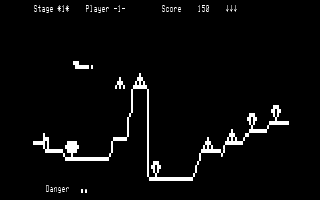 This arcade game let you fly above a scrolling landscape and deliver the final knockout blow with a bomb down a very narrow (and missable) tube (shades of Star Wars). Good sound effects and good fun. The arrow keys took a thumping on this one.
The manual can be downloaded here.

---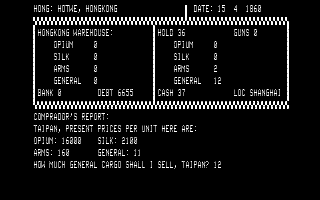 This was a BASIC trading game, where you could make (and loose) lots of cash (and your head) shipping goods to various Oriental ports. I enjoyed playing this game. Humour, and elements of both skill and luck involved.
---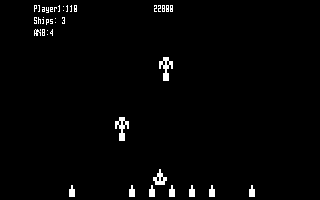 Another TRS-80 arcade classic. While not played as much as Meteor Mission, this space invaders derivative was still a favourite. Came complete with computer synthesized voices.
---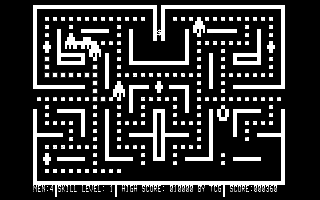 A pac-man clone. Fast and furious. Another favourite
Click here to get the manual.
---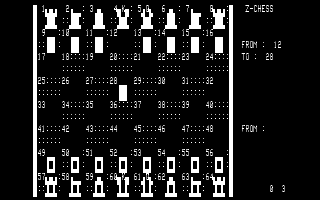 A machine language chess game from an Australian author. Different levels could be selected. I could sometimes beat it at level 1!
---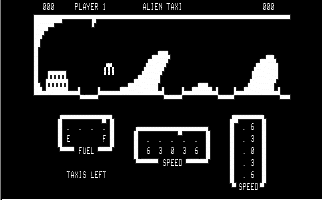 I loved the sound effects with this one. Challenging to play too. A sort of humorous "lunar lander".
---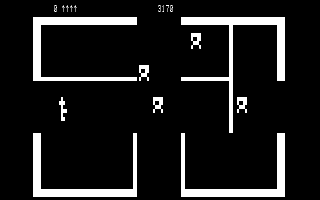 Early arcade game with voices and a Star Wars like beginning. The idea was to shoot the rogue robots.
Ok, but I liked Swamp Wars better.