EACA International. The Company.
---
The Rise...
EACA International Ltd. was created, owned and managed by Eric Chung. Originally from mainland China, Eric Chung saw opportunity in Hong Kong and slipped across the southern border one day. According to one account he spent his first night in the new territory penniless, sleeping in a railway station.
Fortune must have smiled on Eric Chung because by 1978 he had built EACA International Ltd., a small but successful electronics manufacturer producing (amongst other gadgetry) "pong-type" TV video games. Estimates from folk that had visited EACA at that time put the company's head office/manufacturing staff at about 50-60 employees but there may well have been more. Head Office was located at:

EACA INDUSTRIAL BUILDING, 13 CHONG YIP STREET
KWUN TONG, KOWLOON, HONG KONG
From 1980 to 1983 the company put out a range of microcomputers, the most famous being the System 80/Video Genie/PMC 80, which is the focus of this website.
The photo below (courtesy of Alan Witford, ex. Lowe Electronics) shows a gathering of European distributors together with some EACA executive staff. The date is likely to be sometime in 1982 or 1983.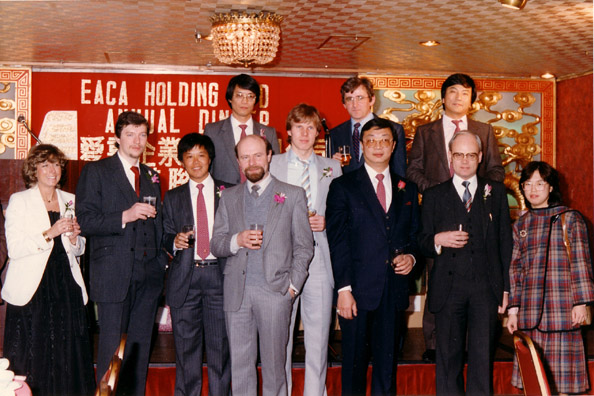 From left to right...
Back row (standing on stage): Unknown, Fred Trommeschlager (managing director of Trommeschlager Computer GmbH (TCS). agent for the EACA machines in (West) Germany), An EACA Engineer
Front Row: Doris Trommeschlager (TCS), Detlet Buscke (associated with TCS), Mark Sim (EACA sales but ex. Dick Smith Electronics, Australia), Helmut ? (TCS), A Swedish Agent, Eric Chung (Owner and Managing Director of EACA), Alan Whitford (Lowe Electronics, U.K.), Eric Chung's Secretary.
...and Fall
EACA collapsed in late 1983 in spectacular fashion! This document on 8bit-museum.de tells the story of how Fred Trommeschlaeger heard the news. According to the report, he was in Munich on business on the 5th October, 1983 when that night his hotel bedroom phone rang. It was his wife, Doris Trommeschlaeger, who had some shocking news to report which could have grave implications for TCS. She had just been contacted by the marketing co-ordinator for EACA in Europe. EACA International was bankrupt and Eric Chung had fled Hong Kong (some sources suggest to Taiwan) with $10 million US dollars stuffed in a suitcase! Apparently he'd speculated unsuccessfully on the Hong Kong property market and that, along with the poor sales of other EACA products (radios etc.) had lead to huge debts.
The news came as a bombshell. Many EACA staff and EACA distributors had known nothing of this looming crisis and some distributors, such as TCS, were in the throes of actively promoting a new EACA 16-bit machine!
Final Word
EACA's demise was caused in-part by poor speculative business decisions. However, the "Home Computer Wars" of the early eighties were the nemesis of many small computer manufacturers, and it is likely that tough competition and an oversupplied market also played its part. Even without his property woes and risky business practices, Eric Chung may have found it hard to keep EACA afloat. I'm sure the manner of his exit though, would not have won him friends amongst his suppliers, employees, distributors and creditors!
Although the EACA machines were generally dismissed simply as "clones" , the people who devised and engineered them perhaps deserve credit for what Compaq and most other hardware manufacturers realised a year or so later. Software, and in particular software compatibility, was becoming an important market driver.